What Does an Alternator Do?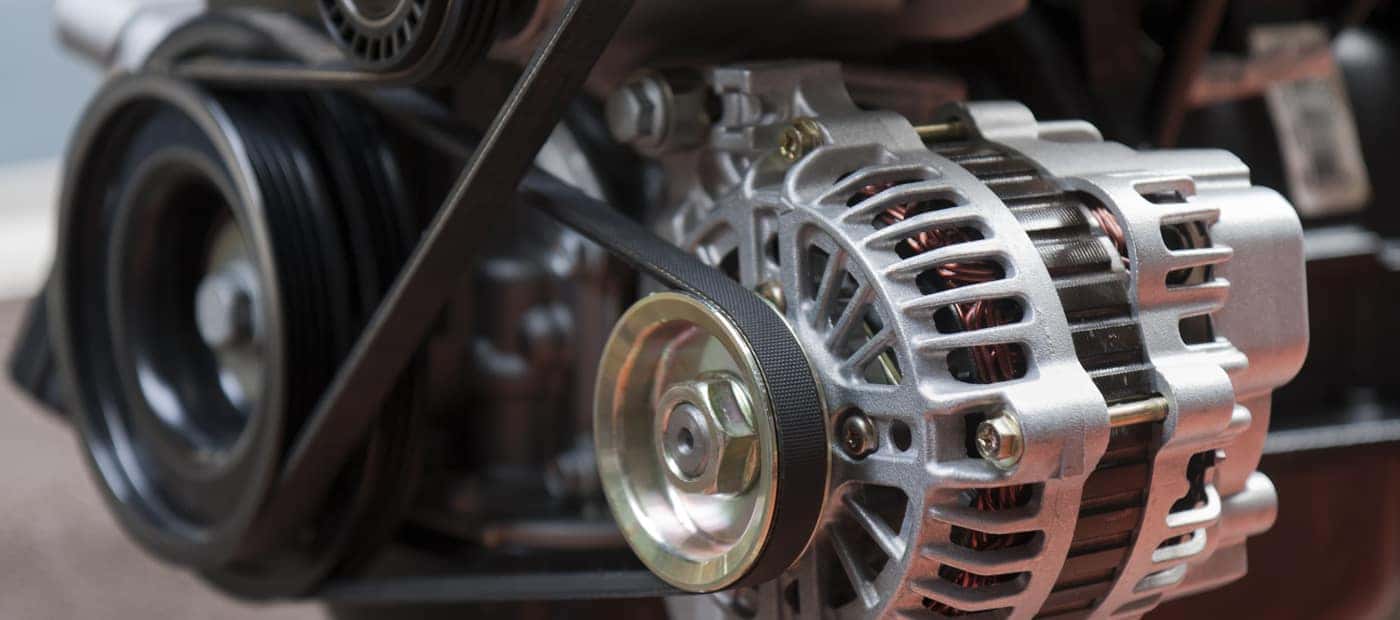 The alternator in your new or used vehicle is responsible for sending power to the car's electrical system during your Baytown drives. It's a common misconception that your battery powers your car, but its only function is to start your vehicle, not keep it running. Alternators use the gas engine as its energy source to generate power and create reliable performance. Learn more about what does an alternator do and how much is an alternator with these service tips from Baytown Nissan.
---
What are the Symptoms of a Bad Alternator?
Knowing more about what an alternator does helps Baytown drivers understand just how crucial this component is to their new vehicle's performance. Staying on top of your routine maintenance schedule will help ensure everything is running smoothly, but if you notice any of these bad alternator warning signs, it could be time to schedule service:
Unable to start
Whining or screeching sound after the vehicle has started
Battery warning light appearing on the dashboard
Dim headlights or interior lights
Burning rubber smell under the hood
Devices not charging
Signs of a Failing Alternator vs. Battery
It's easy to mistake a failing alternator for a failing battery, since many of the symptoms are the same. To determine which component is causing you trouble, wait until your vehicle is unable to start and needs a jump. After jump starting the engine, remove the cables and see if the car can stay running. If it dies immediately, it's likely your alternator needs replacing.
How Much Does it Cost to Replace an Alternator?
It's challenging to estimate how much it costs to replace an alternator due to the wide variety of alternators on the market. Different vehicles require different sizes and options, but our service center near La Porte is happy to provide free estimates for parts and installation based on your make and model. Contact us to get started!
How Long Does an Alternator Last?
Alternators last an average of seven years, between 80,000 and 150,000 miles. There are factors that can wear out your alternator prematurely, though, including:
Alternator quality
Driving conditions in Liberty
Power drain on the alternator
Visit Baytown Nissan for a New Alternator
Need help with a new alternator? Our parts department can find the right option for you, including a wide selection of other Nissan OEM parts and accessories. Take advantage of our current service specials to get your alternator installed for less, and get help with other service-related questions, such as "why is my car leaking water?" and more!
More from Baytown Nissan
On the look out for a comfortable and versatile crossover SUV for your Baytown adventures? Locals are talking about the exciting new 2021 Nissan Rogue. Experience subtle style and a spacious interior that is full of a host of innovative technology. Whether you're packing the family in for a weekend vacation or filling up the…

The 2021 Nissan Sentra is a compact car that's made for comfort. Baytown drivers will appreciate everything that's going on in the Nissan Sentra interior, from the Nissan Connect technology to the surprising amount of cargo space. Baytown Nissan explores the 2021 Nissan Sentra interior dimensions below! View InventoryContact Us 2021 Nissan Sentra Interior Dimensions When…

The 2020 Nissan Frontier is a midsize truck that is great for Baytown driving and jobs around town. With many cab sizes and configurations, you have a lot of options for the 2021 Nissan Frontier towing capability, but it maxes out at 6,720 pounds. Baytown Nissan explores 2020 Nissan Frontier towing capacity options below! Frontier InventoryContact…